Thinking about starting a new degree program or going back to school? However, are you concerned about how much tuition will cost? Have you ever entertained the idea of traveling to a different country to live with the benefits of paying zero to very inexpensive school fees? Institutions and programs in most countries outside the United States for all students of all nationalities provide high quality education at extremely lower costs than U.S. institutions.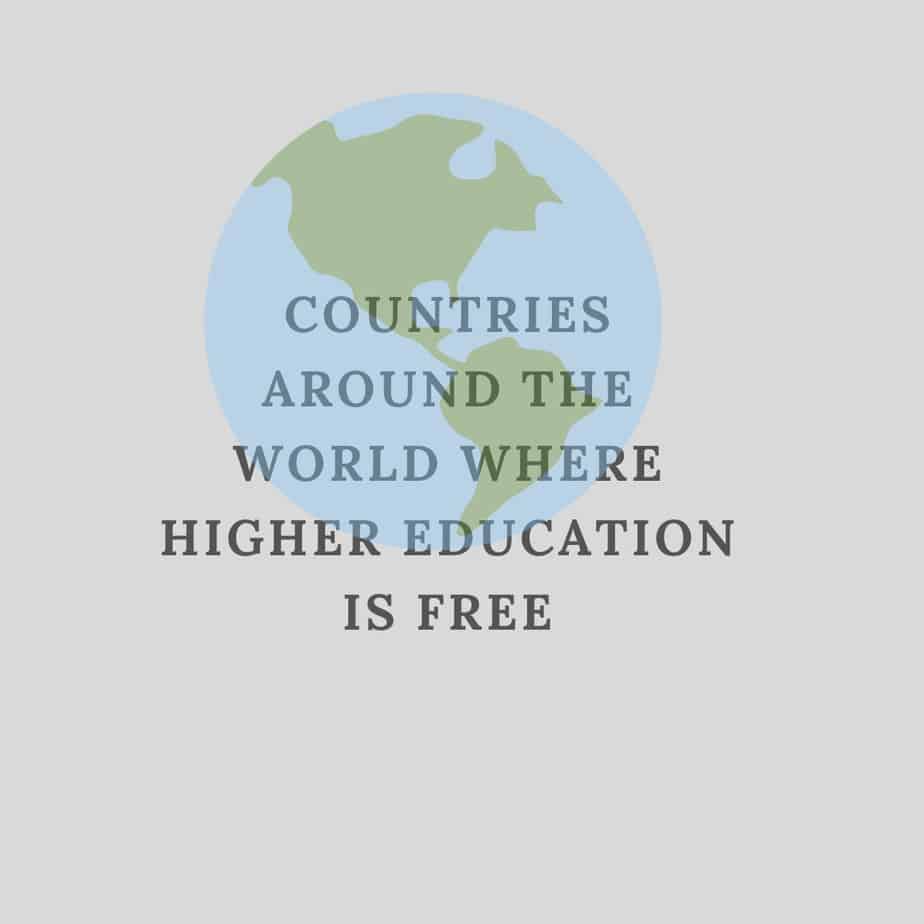 Not only do many Americans go abroad in search of more opportunity and cost savings at universities abroad, many professors teaching in the U.S. have decided to come here or go to other countries for better opportunities and pay. There may be a higher demand in the U.S. for professors in certain academic disciplines such as business (read more about that in another blog post here). Here are some other reasons professors might leave their home countries in search of academic opportunities and to teach.
This post was written by Rachel Simmons (freelance writer) on behalf of Dr. Dave Maslach for the R3ciprocity project (check out the YouTube Channel or the writing feedback software). R3ciprocity helps students, faculty, and researchers by providing an authentic look into PhD and academic life and how to be a successful researcher. For over four years the project has been offering advice, community, and encouragement to students and researchers around the world.
Current student loan debt trends
According to Investopedia, about one third of adults under the age of 30 in the United States are living with student loan debt, therefore financial concerns are understandable. Institutions of higher education in the United States are known for their competitive acceptance rates, high price tags, and even more competitive scholarship opportunities. The ideal of academia is supposed to be an investment that brings prosperity, wealth, and knowledge gain in the long run, which justifies the expenses. However, there is no guarantee of return on investment and the financial risk remains at an all time high with the total amount of student loan debt owed by Americans at about $1.71 trillion. Check out this vlog from Dave about how much Americans should save up before going to graduate school.
Instead of thinking about higher education as an investment or financial risk, it would be nice if it was experienced more as a guarantee for personal, intellectual, and professional development that did not cause further economic debt. Earning a degree without breaking the bank or becoming financially debilitated could possibly create a society where people can focus on cultivating their passions rather than on just creating more wealth. Attaining knowledge and professional skills should increase wealth, power, and agency rather than foster dependency. The United Nations, the largest intergovernmental organization in the world, declared in 1996 within the International Covenant on Economic, Social, and Cultural Rights that "higher education shall be made equally accessible to all, on the basis of capacity, by every appropriate means, and in particular by the progressive introduction of free education".
Although the United States contributed to signing this declaration more than 20 years ago, it is far behind other countries which have implemented these theories into practice. "A 2017 study by the Organization for Economic Co-operation and Development (OECD) looking at higher education costs throughout the world found that the U.S. has the highest average tuition costs of the 35 OECD member countries." Check out this blog on the average cost of doing a PhD program in the U.S.
There are different societies with well rounded economies which aim to uplift their citizens by creating accessible avenues toward academic advancement through federal funding and policy. Many nations in the European Union offer free or very affordable, prestiges higher education programs to their citizens as well as some countries in South America, such as Brazil. Did you know that as an international student you too, can easily qualify for financial assistance and free tuition for Bachelor's, Master's, and Doctoral programs in other countries?
Countries where international students can earn a degree debt free
Based on this country's investment in education, Norway is the only European country in which all of its universities at all levels of higher education offer tuition free programs for all students no matter country of origin. In Norway, one of the brightest countries in the world, no pun intended, where 90% of the population speaks English and it is possible to see a midnight sun. Therefore, this is a wonderful place to study abroad without having to learn a new language. The education system in Norway like many European countries follows the Bologna Declaration process, meaning that achieving a Bachelor's degree qualifies you to start a Master's program, which then makes you eligible for you to start a PhD. "Studying in Norway will give you a full grasp of the Scandinavian leadership model. You will understand how the inherent Norwegian mentality for equality and a flat hierarchy provide such an effective work force, by experiencing it first hand."
Known as one of the most financially supportive countries in the world for students and researchers, Germany is another top place to earn a Master's degree or PhD free of tuition. Every year, the German Academic Exchange Service (DAAD) supports over 100,000 international students and researchers with scholarships, making it the world's largest funding organization of its kind. Germany has a majority of 400 public universities within the country's 16 states. Each state is responsible for providing funding to its public universities. 95% of German students attend one of these public universities while the other 5% attend one of the 120 private universities within the country. Apart from universities in the state of Baden-Ẅurttemberg, non-EU students can get a Master's program with no tuition in the rest of Germany. In some cases, Universities require small semester fees for Doctoral and Master's programs for international students yet with access to DAAD scholarship money many students can get through a semester without paying out of their own pockets. German institutions offer a wide variety of academic programs that are renowned for their reputation in the global labor market due to their adaptation of English as their main mode of teaching. Many applied-science programs collaborate with companies for a "practice-oriented" approach to learning which creates excellent skilled workers who are confident and comfortable in their field even before they graduate. The German labor force is alway in demand for engineers and scientists, therefore there is a good chance of landing a job in one of these fields after graduation.
Brazil is one country in South America that heavily funds its higher education programs. Established in the Brazilian constitution, tuition is free for all students regardless of national origin at public universities, this includes Master's and PhD programs. Brazil has over 2,000 private universities and about 300 public universities. In Brazil a Doctoral program typically lasts for four years and programs are in both English and Portuguese. "As part of the country's focus on enhancing its academic reputation, Brazil is in active pursuit of internationalization", therefore international students are highly encouraged to apply. "The Brazilian Student Exchange Program for Graduates (PEC-PG) is a program developed by the Brazilian agency CAPES, the Coordination for the Improvement of Higher Education Personnel, that provides financial aid to Master's and PhD students to increase the qualifications of professors, researchers, professionals and graduates in developing countries with a cultural or educational cooperation agreement with Brazil." Cultivating diversity, Brazil is home to a melting pot population and welcomes students from all backgrounds. Attending a Brazilian university will enhance your social skills and broaden your circle through networking and collaborating with all kinds of people. International cultural exchange produces depth and well roundedness in students making them excellent candidates to employers looking to hire people with life experience as well as technical abilities. Aside from the airfare and in some cases an affordable application fee, Brazilian universities provide very inexpensive programs of higher education.
With 98% of its population that can speak English, Iceland is a great option for getting an affordable Master's or Doctoral degree in English. Universities in Iceland require all its students to pay about $500 per year as a registration fee instead of charging a large tuition. Iceland's small population and amazing scenery make this a great spot for writing dissertations and attending small classes with low student to professor ratios. Imagine meditating on an environmental studies course or a climate change research topic while submerged in the healing and rejuvenating mineral-rich waters of an Icelandic hot spring. "Due to large volcanic eruptions and changes in solar output" earning a degree in environmental studies in Iceland would be well worth it. With plans to become the first hydrogen economy, Iceland is moving toward being the first energy independent country in the world using 100% renewable energy.
The oldest, largest, and most popular university for international students is the University of Iceland located in Reykjavik. 5% of all students in high education programs are international students. The University of Iceland has created a program called Distant Education in the form of free and open classes and modules available to everyone everywhere through the platform edX. EdX, founded by Harvard University and MIT in 2012, is an online learning platform and massive open online course (MOOC) provider, "offering high-quality courses from the world's best universities and institutions to learners everywhere, including the University of Iceland through UIcelandX. Accessible to people all around the world regardless of economic status, these courses offer an opportunity for people of all ages to dip their toes into academia as a hobby, a part time endeavor, or a fully committed degree program. With green energy innovations and online free and open courses, Iceland is leading the world in modernization, activism, and social and environmental change.
Sweden is one of the most popular countries for international students with over 30,000 students coming from different countries traveling to Sweden to obtain a Master's degree. Although most Master's programs require a small tuition fee of about $3,000 per year all PhD programs are tuition free and as a PhD candidate, you can become an employee of the university. As a politically and culturally inclusive country with a well established and highly ranked pool of universities, Sweden is a common destination of choice for international students. A Swedish Doctoral degree requires a minimum or four years of course study and research. In Sweden there are many specialized schools, such as the Royal Institute of Arts and the Royal Institute of Technology that incorporate companies within the learning aspect in leading industries to provide real-world experience that augments an academic setting. Sweden is also known for its emphasis on a teamwork and cooperation culture. The global job market in Sweden "rewards ambitious, innovative and perceptive team players". The education system prepares students for this collaborative labor market.
As one of the richest countries in the world leading in oil reserves and international trade, Saudi Arabia is able to allocate federal economic resources to funding education, including a government funded scholarship program specifically for international students. Within this program if an international student is accepted to a university all fees will be covered through scholarship. "The Ministry of Higher Education oversees all higher education in the country, with a particular focus on scientific research at the government universities." Although many programs, especially the technical ones are in English, Saudi Arabia also provides a full Arabic cultural and language immersion for students from places other than the Middle East who also do not speak Arabic. More than 200,000 students are currently enrolled at Saudi universities and colleges with about half of them being women. "In 2005, Saudi Arabia launched what is known as one of the largest scholarship programs ever initiated by a government, the massive multi-billion dollar King Abdullah Scholarship Program (KASP), which allowed more than 200,000 Saudi citizens to earn degrees in more than 30 countries during the first decade of its existence alone."
Finland and the Czech Republic
Finland and the Czech Republic are also countries that offer free higher education to all students regardless of citizenship country yet they only offer free courses in the Finnish, Swedish, and Czech languages. Therefore, unless you speak these languages, you will have to pay some tuition fees for English programs in Finland and the Czech Republic. The 2019 World Happiness Report named Finland the world's number one happiest country overall. Finland is known for its luscious landscapes and trendy cultural expressions; it is a fantastic place to travel, live, and to complete a Master's and Doctorate degree. Over 45,000 international students are studying abroad in the Czech Republic at various institutions of higher education. International students are attracted to studying in the Czech Republic due to the fairly low cost of living.
The bottom line
The results of pursuing higher education should be growth, empowerment, knowledge and experience. It would be nice if more countries adopted ideals to encourage and assist their populations with more skills and confidence through affordable degree programs. If you are interested in improving yourself, fostering a talent or solving a social issue without developing a dependency on paying off debt, then by all means research and discover a degree program suited for you in a place that supports you financially and academically.