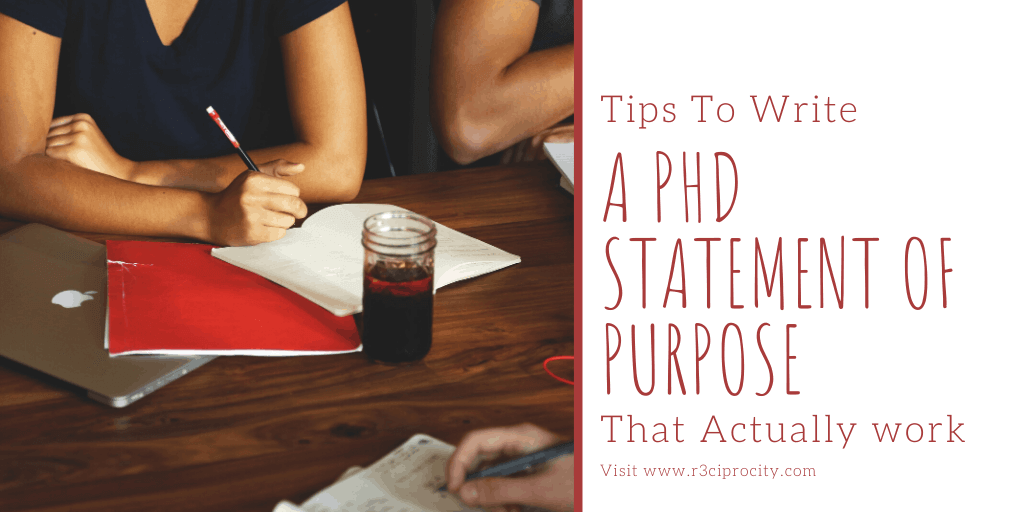 Advice on how to write a statement of purpose for a PhD program is rather bountiful. There are many things to think about when you write a PhD statement of purpose, and you will find many good resources on the internet to craft a basic statement of purpose.
However, sometimes I feel as if most of the people who have written these resources have not had to struggle with writing their statement of purpose. Personally, I really struggled at writing my statement of purpose. I am certainly not very bright, and I am not a good writer. However, I was able to able to write a statement of purpose that resonates with what I am about, and was able to get into graduate school at a pretty good university.
Looking back at my statement of purpose when I applied and got into my doctoral program, I am not proud of it. While it was good enough, I I think it could have been much better. What I failed to do is think about how the statement of purpose signaled about who I was and what I was about. But, coming to this realization was a journey.
Before you go further you probably are wondering about me. I am David Maslach, an Assistant Professor in Entrepreneurship, Innovation, and Strategy, and I was able to get my PhD a few years ago. I did not come from an academic family and grew up in a small Northern Ontario (Canada) town, and had to learn all about this kind of stuff through vicarious learning. I also learnt a lot through making many mistakes myself. This is part of my r3ciprocity.com project, where I am giving back to help other people that are interested in graduate school and research. I created a sharing economy proofreading platform (which I think is way cool but the community of users is far to small at this moment), so that you can get feedback on your writing, and creating a rather large library of YouTube videos.
I hope with this resource, I will be able to speed up this journey for yourself. Here are some tips that you can do use to improve your chances with your statement of purpose to get into graduate school. Here is a summary of what you need in a Statement Of Purpose in case you don't have time:
Communicate that your read the potential graduate advisor's research.
Focus on ways that you can make faculty more productive.
Focus on or build relationships.
Before you get too far into the doctorate journey, you should really watch a bunch of my YouTube videos (just Google r3ciprocity) and read these resources on either the pros and cons of an executive doctorate or the advantages / disadvantages of a PhD. I also wrote a great resource on the tips for applying for PhD programs.
If you want to get a more in-depth take on how to write a Statement Of Purpose, I would highly recommend that you watch this YouTube video which goes into way more detail and tips.
Communicate That You Actually Read Your Potential Advisor's Research.
When you craft your statement of purpose, I would be well aware of the research that is going on at the place you are applying to. You do not have to read all of the faculty's research, but you should read some of their research. Perhaps, you just read their last few articles to see what they are about. You also don't have to read everyone's articles, just the researchers that seem to appeal to you.
In the statement of purpose, you should cite or discuss these researcher articles. What is it that you found interesting with these research articles? Why does that research resonate with you. An astute doctoral student might even point out how they can build on these papers. Read some of the limitations in the research article, and see if you could design a potential study to alleviate this limitation that might extend their work.
Why do you want to focus on the research of others in your statement of purpose? Three reasons:
This is how science is done. Almost all science is telling a story about what others have done before you.
You will quickly find out if their research is interesting, and if you like what they are doing.
Talking about others is far more endearing than talking about yourself. Flattery does work.
Focus On The Skills and Capabilities That You Possess That Can Help Improve Their Research Productivity.
Your goal is to position yourself as an asset for the faculty members, and as someone that can work independently on their own. I would first focus on your skills and capabilities that you possess that will help improve the faculty's research productivity. For example, if you are good at databases, then point out how you can assemble databases for them. If you are good at writing (i.e., an English major), that show how you excel at writing and crafting research literature reviews. You should take an inventory of your skills and craft them on the Statement of Purpose to show how you can help the researcher you are interested in working with as a potential PhD student.
Another key thing that you need to highlight is that you will be able to work independently on your own in the future. Do you have original ideas? Are your original ideas sound science? If you can show that you will be the next research superstar, and that you have some moxy to do this, then you will appear attractive to the potential grad program. Research moxy is hard to describe, but you will know when someone has it, or can write about what they are capable of doing.
If you need help with how to think about science, you should watch the following video:
One more point – you should put emphasis on the things that you have done, and on the things you want to do. Anybody that relies on behavioral research is going to emphasize what you have been proven to do in the past. However, a statement of purpose really needs to communicate that you have an underlying mission, vision, and values.
Point Out Any Existing Relationships That You Have.
Applying to PhD positions, like jobs, is very relational. Everything during the PhD process is all about the relationships that you have formed or the ones you will form in the future. What do I mean by relational? Science is about the people you know, and the people that know you.
Why is science so relational? People are just uncertain of others that they do not know, so they tend to prefer the ones they have an existing relationship with. They also like to work with people that they had positive experiences with in the past.
How do you emphasize relationships on your Statement Of Purpose? On your Statement of Purpose, point out the people that you know at that institution. You need to point out these relationships within the first 3 lines on your Statement of Purpose. Why the first 3 lines? People that are looking at your Statement Of Purpose are resource-constrained, and will only pay a few minutes to each application.
What if you do not have relationships with anyone at the school? If you do not have direct relationships at the school, then specify indirect relationships. Write that Professor So-And-So told you to apply to that institution (it should be true, but people will fact check this statement). Try to ask Professor So-And-So if they know anyone at your dream university, and if they do, simply ask if you can use their name on your Statement.
What If you do not have any indirect relationships? This is where you have to do a Judo Chop. You need to establish an ongoing relationship with somebody at the university you want to attend. What?! Yes, you do. Virtually every person that I know who got into a top research university had some internal relationships with people at that university. And, the people that did not have a relationship had to be absolutely exceptional compared to those that had an established relationship, and surely that is not most of us.
How do you do this Judo Chop? You have to work on these relationships for a year or two (If you are serious about the career, you should not be concerned with this length of time. I wrote a blog post detailing why and how long it takes to get a PhD, and it will surprise you). One way is to do another Undergrad or Masters at that PhD. This means that it will be easier for you to get into a PhD at the university where you did your Undergrad or Masters programs. But, this is not my favorite approach because it is costly.
There are two sneaky ways that people end up doing their PhD at a stellar school.
Get an administration or lab job at the university you are looking to attend. Many people who end up getting their PhD at prestigious universities actually worked at those universities in some minor role beforehand. It will also be much easier if you worked at the university in an administrative role prior to becoming a PhD student. Generally, it is far easier to also land an administrative role at those universities than a research-track roll. You can work in admissions, for the universities' boosters, or become an administrative assistant just to get your foot in the door. You simply need to just be around the university, and then you will see opportunities open up when they become available.
Try to find ways to freelance for the potential researcher in minor roles. I would love it if some potential PhD candidate offered to build a personal website for me for free. Or, maybe you offer to write blog posts for them about their research papers (a la Harvard Business Review style). Focus on activities that make others look better or make their life easier. Focus on being as helpful as you possibly can and try to remove your ego from the equation. Things like this are relatively minor, but they go along way to establish a relationship with a potential PhD supervisor, or an ally in the application process. Now, it does not guarantee that you will get admitted to a graduate program, but you can eventually use it as a possible connection that you have on your Statement of Purpose. Moreover, it also gives you information about what this person is like on a daily basis. What a better way to see if you want to work with someone than to work with someone on a low-stakes job.
Conclusion
Many people write Statement Of Purposes that rarely communicate much to anyone that is reading it. You need to show that you really care about your PhD, and you care about the people that you will work with during your PhD. This means that you actually have to read their work, or at least some of their work. You have to demonstrate that you have skills and capabilities to make the faculty look good. Your end goal is to make others look better, or to improve their performance as a researcher. Finally, you need to build relationships with people. Its tough, and takes a lot of work, but these relationships, and communicating these relationships on your Statement matter a lot.
Pro-Tip On Research Statements.
I wanted to give you one last pro-tip on your Statement Of Purpose. Don't be afraid to be sincere. You can point out some of your weaknesses, and how you might actually either improve these weaknesses. Nobody is perfect, and being an academic is all about identifying your shortcomings and working on these shortcomings. For example, if you do not know about regression, will point that out, but then talk about what courses or actions you would take to get good at this technique. The goal is to show that you are both real, and that you know what it takes to improve your current skills that you possess.