We often are asked to recommend some of the must have software programs, tools, and apps for PhD students, professors, and academics, so we have put together a comprehensive list. These selections are based on our experience using some of them and recommendations made by several of Stephanie's colleagues via Facebook. Interestingly, for some of the tools listed, there was a lack of consensus about their usefulness so in some instances we provided a few pros and cons to help you make the best decisions based on your needs.
This post was written by Stephanie A. Bosco-Ruggiero (PhD candidate in Social Work at Fordham University Graduate School of Social Service) and Jessica Russell (freelance writer) on behalf of Dave Maslach for the R3ciprocity project (Check out the YouTube Channel or the writing feedback software). The R3ciprocity Project started out as a side-project, where David Maslach created an App to help others get feedback on their work (r3ciprocity.com – it is seriously inexpensive and easy to use. You have to try it!), but it is beginning to grow into a real movement. R3ciprocity helps students, faculty, and research folk by providing a real and authentic look into doing research. It provides solutions and hope to researchers around the world.
As a PhD candidate, a professor, or academic much of your time is spent doing research, so it's important to do as much as possible to ensure your projects and tasks run as smoothly as possible. The list below includes software, apps, and tools to help you take notes, manage projects, do statistical analysis, edit and cite your writing, convert files to and from PDF and eBook format, survey respondents, help you concentrate, and aid in graphic and art creation. We also threw in some tools to help with self care including mindfulness and meditation apps.
This list is not all inclusive. If there is another app or tool you think people should be aware of, let us know in the comments.
Check out this article on what PhD students do all day. You will be surprised.
Here's a vlog Dave recording on how to speed up research productivity that you might want to check out as well.
Note Taking
There are times when an idea or inspiration pops up in the moment and you need to jot it down, or you're focusing on one task and you think of something that will help with another. Note taking apps and software programs help you jot down those ideas to save for later. Check out this amazing post on how professors check for plagiarism – it is pretty helpful). They also help you organize your notes for teaching, research, and other projects. Get a program that is web based so you can sign on anywhere, including your phone. Most allow syncing via multiple OS and Browsers. Of course, you may always also benefit from a simple electronic post it app that you can install on your desktop (don't go too crazy though, I once crashed my laptop by having like a hundred notes). Phones of course also have handy note taking and reminder apps. But we recommend the following apps and tools for more comprehensive academic note taking:
In July 2021, I polled the R3ciprocity YouTube community about the best note-taking software, and here is the results from 174 responses! Thank you! As you can see, the best note-taking software is OneNote or Evernote, but many people have others that they use.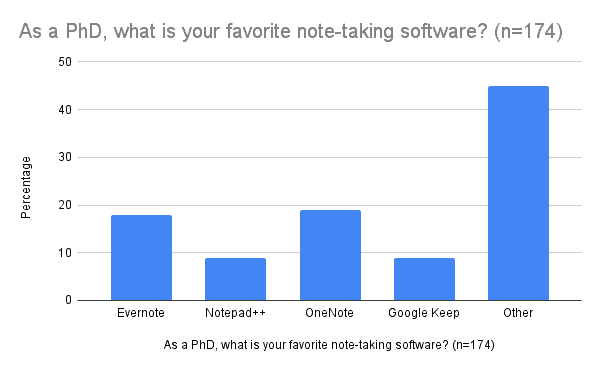 Check out this article on how many years it takes to do a doctorate degree. It goes into quite a bit of detail.
Word Processing
Writing will take up a bulk of your time and using software that has a great UX and is easy to navigate will reduce the time you spend with unnecessary editing and fumbling with tools that slow you down. The software we recommend are staples of the industry and are most popular among writers. Make sure you explore Microsoft Word online as well. It is useful when you have work across multiple devices. Microsoft can be seamlessly integrated with OneDrive but make sure your settings are right so you don't lose anything! The usefulness of Good docs and drive also cannot be understated.
Stephanie resisted Google Docs for a long time because I feared I would lose something or the document would not look as polished as a Word document, but you can download your file as a Word document, plain text, PDF, etc. The thing that really sold me on Google Docs though was the ability to work with a team to collaborate on writing, provide suggested edits, accept or reject edits, and be able to do all of this real time. You can also easily chat to the side of the document as you collaborate and edit. You can keep your documents in shared drive and designate who has permission to access and edit.
Libre Office – Open-source, but uncommon.
I did a poll on the R3ciprocity YouTube community in July 2021 on the most popular word processing software, and here are the results: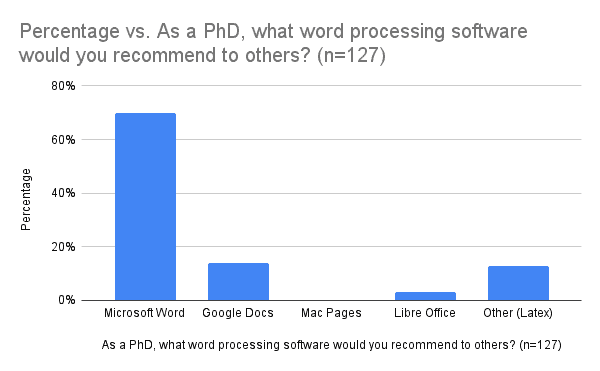 You might want to watch this video about writing Apps for PhDs:
Grammar Checking, editing, and Proofreading
Hey, did you hear about this neat proofreading and editing program called r3ciprocity 😉 It allows you to pay forward the favor of proofreading and reviewing by collecting credits which you can then use when you need your work reviewed. You can also buy credits if needed. Check out Dave's platform at https://www.r3ciprocity.com/ The platform is also building a community of scholars that can be helpful to you when you need scholarly work reviewed or just need to bounce around some ideas.
(Here is a good blog post on getting feedback on your work – you will love it.)
Be careful using automated proofreading or editing software or tools as they may not pick up on the nuances of your work or the points you are trying to make. Also, try to use alternatives before you hire a pricey writing consultant, proofreader, editor, or coach. Sometimes hiring someone is needed, but if you need lighter editing and reviewing check out r3ciprocity.com and contact Dave if you have any questions about the platform.
Check out how to log-in to the R3ciprocity platform.
Here is Dave discussing how and when to purchase credits on his proofreading and editing platform R3ciprocity:
There are a number of other resources for grammar checker Apps and editing resources that you might want to check out in this blog post.
Statistical Analysis
Of course you are going to need statistical analysis software to complete that thesis or dissertation, and as an academic, analyze your data and produce manuscripts. Many doctoral programs train their students using IBM's SPSS but some also or alternatively train their students in R or Stata. Stephanie personally prefers the point and click functionality of SPSS which also allows advanced coders to exclusively use syntax to conduct analyses. Personally, she prefers to use a mix of point and click and syntax. There is a plethora of guidebooks and manuals, print and online, to help you become fluent in SPSS. New versions are released regularly and students can purchase SPSS inexpensively (read more below). However, for those who prefer to code and use syntax R and Stata may be more challenging and enjoyable to use.
SPSS (Paid, easy to learn)
R (Free, open-source, and powerful)
Stata (Paid, combination of open source and paid, powerful) – Dave's Pick
Since, there is confusion and it matters a lot about what software you should choose early in your career, I (Dave) polled the R3ciprocity community on YouTube in February, 2021 to find out the most common statistical software that researchers use. 106 people responded. Here are the results: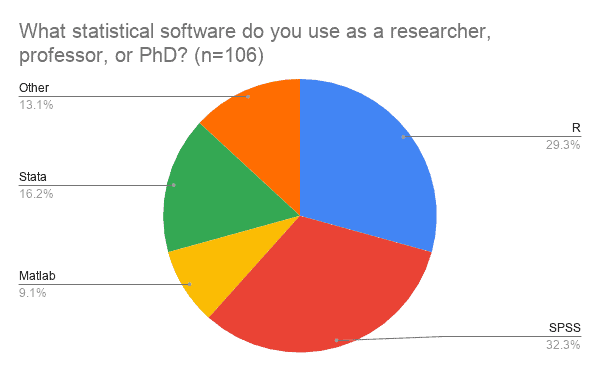 I was actually quite surprised by these results. I knew that R and SPSS would be rated fairly high, but I was surprised by the fact that Stata only got 16.2% of the votes. Stata is such a powerful, and underrated tool. However, I suspect that it is fairly uniquely used by more economics, finance, and business folks. As someone who has used all of these software (other than R), I would highly suggest it. The instructions material alone is a great benefit.
EBook Converter/PDF Converter
Publishing your manuscript may require turning it into a readable digital format that will translate easily to multiple electronic devices. Whether you are self-publishing, want to convert your work into a polished format, or need this capability for another reason we've found that these are some of the best tools out there.
Foxit Phantom PDF Editor/Reader
MikTex LaTex – LaTex is preferred in the basic sciences.
Project Management/Task Management
Research and writing can be overwhelming with the minutia of details you need to record and track. You may also need to keep these details on behalf of or with a writing or research team. Project and task management software will help you stay on task and warn you when you are falling behind. Additionally these programs help when you're collaborating with a team. Everyone using these tools can get both a big picture view of the project timeline as well as dive into the details to understand how to best manage the project.
Survey Research/ Experience Management
At some point you will send out a survey for your research, or perhaps for another purpose. These survey and experience management tools help you gather that data as well as measure and analyze the results. They both allow you to export to statistical analysis software and have different levels of functionality and pricing. Make sure your university does not have a license before you spend your own money on these tools. Survey Monkey might be more accessible for beginners but Qualtrics is not difficult to use. You might even give Google forms a try for quick, basic surveys of students or another smaller group of respondents.
Google Forms – Great for small tasks.
We conducted a poll of the R3ciprocity YouTube community about the most popular survey tool in March 2021. 56 people responded. The most popular survey tool for researchers is Google Forms. 55 percent of the respondents preferred Google Forms. Honestly, this surprised me because I thought it would be Qualtrics, however this might be explained by the younger and more international audience on the R3ciprocity channel.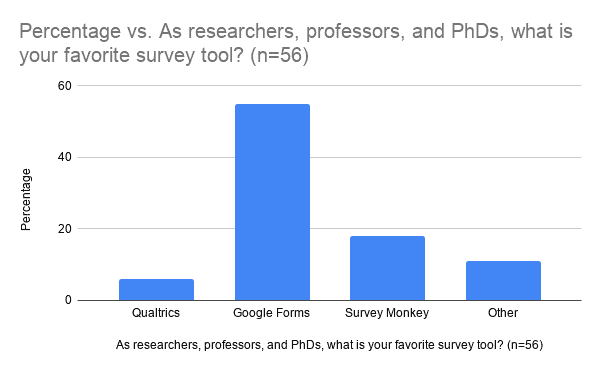 Qualitative Data Collection and Analysis
Stephanie does not have a whole lot of experience with qualitative data analysis but has heard that the following programs are quite helpful. They provide some free training and practice modules as well as manuals and guides. Find out which software your department uses and whether you can use it on campus to complete your research. A personal license may be expensive. If you are doing qualitative data collection such as interviews or focus groups you should also download a handy recorder for your device such as Audacity.
Reference/Citation Managers
Make your life easier by using a citation manager. These programs help you to manage your sources as well as help you build your reference lists. Doing this task manually is silly if you are an advanced researcher. You must have a citation manager if you are completing a dissertation and it is highly recommended for a thesis. Your university may offer a specific program for free so you might go with that one, but others are often either free or low cost, especially the web based versions. Endnote has Endnote Web and Zotero is very easy to integrate into your word processing programs, use collaboratively, and use only. Some people feel that Mendeley and Endnote are clunky. Stephanie personally really likes Endnote but recommends taking some in depth tutorials to learn how to use it properly.
Endnote (Dave's and Stephanie's preference)
Don't know which is best for you? Check out our survey on the best citation software for PhDs.
Illustration/Graphics
Your writing may require graphics, diagrams, and other forms of art. Some people rely on the tools native to Microsoft products, but we've found that the following programs help further and enhance creativity. Additionally they make creating graphics to support your writing easier and look more professional. Stephanie especially recommends Canva. She discovered it when her students kept mentioning that they were using it to create graphics, brochures, and other illustrated products for social policy advocacy class. It is super easy to use and the library of images is great. You can make business cards, social media posts, infographics, brochures, and more! It's the hot tool in illustrated document creation today.
If you need a website for your organization or you want to develop an academic profile site you could use Canva for ideas, photos, and structure. WordPress takes some getting used to but it is inexpensive and versatile. For an academic profile/portfolio you might simply use Academia.com's template which allows you to feature your writing, projects, interests, experience, etc.
Canva (Dave's pick).
Microsoft Visio (Good for schematics).
AutoDesk (A favorite for CAD).
Meeting Software
These days we are all familiar with meeting online. From job interviews to meeting with colleagues, the following are the most used software programs for online collaboration with video and sharing tools. One of these platforms may be available to students for free so investigate before paying for any of them. Stephanie prefers Zoom but has heard great things about Teams. WebEx is great for delivering webinars.
Google Meet (reliable, but less functionality than Zoom)
Skype (Seems to be losing ground)
FaceTime – Reliable, but only works with other FaceTime users.
In July 2021, I (Dave) polled the R3ciprocity YouTube community about the meeting software that they most use. It turns out that Zoom is a by far the most popular, with 67% of responses selecting Zoom. Most PhDs tend to use Zoom. However, 17% use Google Meet as well.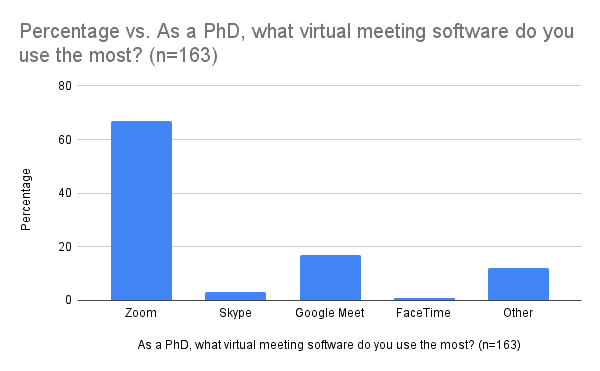 Programming
What would a PhD without programming? It seems that more and more of us are doing programming during grad school. Here are some best picks that you will use:
MatLab (Scientific computing – Dave's pick).
MapleSoft (Scientific computing).
MathCad (Pretty awesome Engineering software).
In August 2021, I polled 124 PhDs on the R3ciprocity community on YouTube on what is the best programming language for PhDs. Here it is: The most common programming language for PhDs is Python. Around 60% of PhDs use Python as their favorite programming language for their research projects. Python is preferred to Matlab 4 to 1.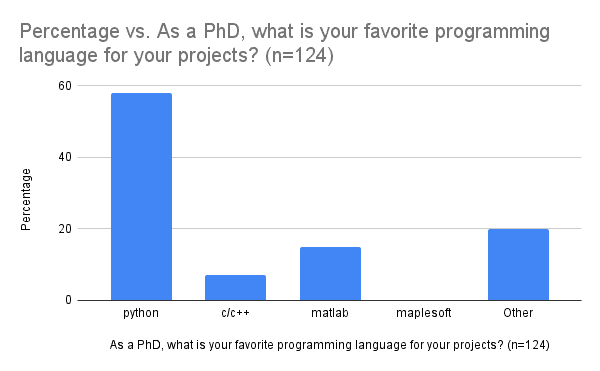 Self Care/ Mindfulness
It's important to practice self care during your doctoral studies or as a professional academic. Taking time out daily with these self care apps will help you center yourself and reduce stress. In addition they will help you stay on task and make your life one in which you can find a calm space to just be mindful wherever you are. If you have a VR headset there are some mind blowing meditation apps you can use to fully immerse yourself in a blissful meditative state.
White Noise Generator
Some people need complete silence when writing, while some need a portion of their brain to be occupied by music or white noise. When it's important that nothing distracts you from focusing, especially outside noise from loud environments, we recommend the following to help you stay focused and block out the noise.
Finances
Don't forget that your finances are super important during your PhD. You have to keep your financial life together to get through your PhD Program. Here are some that Dave suggests:
Mint.com (Free, Dave uses it everyday).
Every Dollar (Dave Ramsey's product).
Gaining access to software and tools for free
We hope you found this list of suggestions helpful. Remember, do not spend a lot of money on software or other tools if you can get them for free through your university. Most schools now provide a Microsoft suite of tools, including OneDrive, to students for free. Check your IT department's web page and list of free downloads. Of course, Google apps are free as well. Often, you can't go wrong with Google but there are apps and tools that may be better that you have to purchase, just don't spend a whole lot of money, especially if you're a student.
When it comes to survey or data analysis software your university may have purchased a license making the software free for students, faculty, and staff users situated on campus. In certain cases, you may also be able to access these software programs for home. What comes to mind is a university wide or department based Qualtrics license or a comprehensive Zoom license. Just check with your department or university before you purchase anything. If you must purchase SPSS for use at home as a student or university affiliated researcher go to studentdiscounts.com. They offer a full array of options for purchasing SPSS licenses for personal use on your own PC or Mac at a deep discount. You just have to provide proof of your university affiliation.
One more recommendation is to definitely take advantage of a cloud based file storage tool such as OneDrive or Dropbox. If you are not in the habit of backing up your local computer files on a thumb drive, you must back them up on the cloud. Stephanie likes Google Drive, OneDrive, and Dropbox. Which one works best for you might depend on whether you often collaborate, which word processing software you are using, where you access your files, and which one you use for free. Many universities include limited free OneDrive storage as part of the Microsoft Suite offerings.
Did you benefit from this post? Do you know of anyone at all that could use feedback on their writing or editing of their documents? I would be so grateful if you read this post on how to get feedback on your writing using R3ciprocity.com or let others know about the R3ciprocity Project. THANK YOU in advance! You are the bees knees.
If you enjoyed this blog, you might be interested in reading these other posts on blog.r3ciprocity.com.