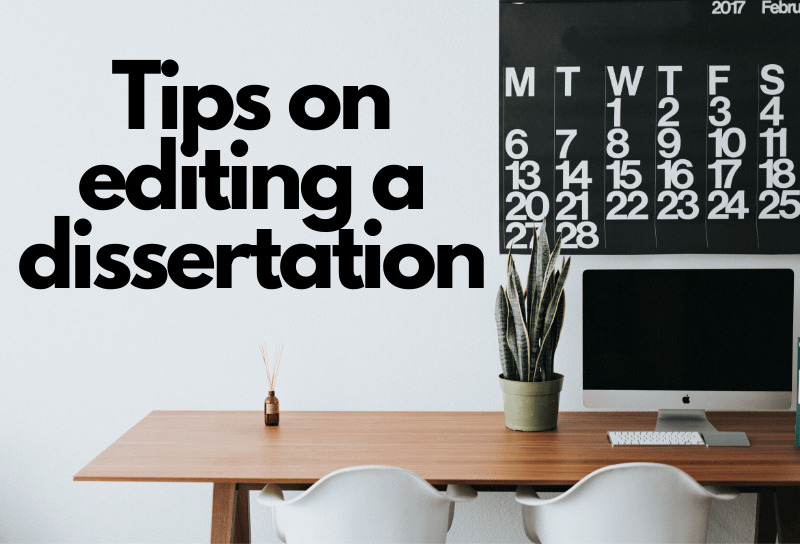 When it comes to writing a dissertation getting the words down on paper is only the first step. For the work to be the best it can be it needs something more – editing. Whether you are editing your own dissertation or someone else's it can be difficult to know where to start or what to look out for. Here are some top tips for getting a dissertation ready for deadline day.
When editing a dissertation leave enough time to edit well and make sure you are in a good frame of mind. Clarify the focus of the dissertation so you know what material can be removed and what needs to be added to improve the quality of the writing. Work slowly and carefully so you can pick up on and correct errors in spelling, grammar and presentation. This will improve the professionalism of the work and make it easier to read.
If you want to watch the YouTube video that this post is based on, check out:
Tip 1: Leave enough time for editing
As you probably already know, 9:00 pm the night before your deadline is not a great time for editing your writing. Your mind will be tired and your concentration will be poor. The stress of only having a short amount of time may be motivating but it will not help your editing skills. You will try to edit too fast and miss errors big and small.
Editing someone else's dissertation is also difficult in a short time frame. There will be the same temptation to edit fast and get it done. Opportunities to improve the quality of the writing will be missed along with spelling and grammar mistakes.
You don't need to leave a long time to edit a small paper or project. But a longer piece of writing like a dissertation that has been written over many months will benefit from a few weeks (at least a week) dedicated to editing. Aim to have a first draft of your dissertation completed well in advance of the deadline. It will ease your mind and give you lots of time for editing and improving.
If you know you will be editing someone else's dissertation then encourage them to get their work to you as soon as they can. The earlier you edit their dissertation the more time they will have after the editing to reflect on your suggestions and rewrite sections if required.
Tip 2: Prepare your mind for editing
Jumping in to the editing process right after you have finished writing your dissertation is tempting but a bad idea. Your head will be spinning with words and worries about the quality of your work. You will be too close to the project to see it objectively.
The best thing you can do for your dissertation when it is "finished" (when the words are down on paper) is to forget about it for a few days. Go out with friends. Get some exercise. Do all the things you wanted to do while writing your dissertation. When thoughts of your introduction interrupt your day, push them out of your head.
This time is not unproductive. You are giving yourself time and space away from your work which will make you a much better editor. When you open up that document again after a few days away you will have a rested mind and a fresh perspective. Errors that you completely overlooked when writing will be glaringly obvious. Sentences that don't make sense will leap out at you. You will suddenly be able to see multiple things you can to do to improve the quality of your work.
Preparing your mind well for editing also covers all you can do to get yourself into a good head space before looking over your own or someone else's dissertation. Simple things like ensuring you are well-rested and comfortable will make you a better editor. So will an editing in an environment that is quiet, well-lit and free from distractions.
Tip 3: Clarify the focus
Every field of study is huge with unlimited possibilities for research and ideas. But it is the role of the dissertation to go small and focus in on one very specific aspect of a particular topic. The early stages of planning and writing a dissertation require the writer to clarify what their focus will be. The introduction of the dissertation explains to the reader exactly what the focus is. The rest of the dissertation is directed by the focus. And when editing you are assessing how well the focus has been achieved.
What is the focus of this dissertation? What does the writer want to achieve? How does this fit into the existing body of work on this topic? Read through the dissertation you are editing with these questions in your mind. They should be answered clearly and very early on. The introduction is vital for establishing a clear focus in any dissertation. The whole discussion needs to be outlined and important terms need to be defined.
Anyone reading the introduction to a dissertation should be able to understand what the focus is. Later sections might delve deep into technical language and formulae that may be confusing to someone with no higher-level background in the field of study. But in the introduction clarity and simplicity are the most important factors.
Spend time as an editor making sure you fully understand the focus and editing the introduction to ensure that the focus is clear. If you are editing someone else's work and the focus is unclear then discuss this with them. You will not be able to edit a dissertation effectively unless you understand what it is trying to do.
Tip 4: Remove redundant material
Every word, phrase, paragraph and section of a dissertation should add value and contribute to the overall focus. If it doesn't then it needs to go.
During the writing process it is often valuable to get as many of your thoughts out of your head and down on paper as possible. This is because for many it is much easier to cut down on words than write them. But the editing process is about streamlining and getting rid of the excess.
This is why it is so important to understand the focus of a dissertation when editing it. When you understand the focus you know what is contributing to it and what is distracting from it.
A dissertation, for example, about the prey and feeding patterns of resident bottlenose dolphins in Sarasota Bay, Florida should say very little about anything but that. Any information about other dolphin behavior, other animals, dolphins not resident to Sarasota Bay or dolphins in other areas of the world should only be referenced if it is directly linked to the prey and feeding patterns of this particular group of dolphins. If the information is not directly linked to the focus it needs to be removed.
Repetition is another instance where words can be removed. In some cases – such as later sections repeating what was in the introduction to expand on it – repetition serves a purpose. If it is not serving a purpose it is a waste of words.
Be on the lookout as an editor for material that is not needed and either delete it (if the dissertation is yours) or make note of it for the writer (if you are editing someone else's work).
Tip 5: Discover what is missing
One of the purposes of editing is finding the sections where a dissertation can be improved. This could mean removing material (see Tip 4) but could also mean adding material.
You may remember receiving papers back from your teachers in high school with Why? or Explain or Expand on this point written in the margins. This is the same thing. When editing a dissertation search for instances where digging a little deeper or adding more explanation on key points could upgrade the quality of the work.
Something else that might be missing is smooth writing that is easy to read. Any part of a dissertation that feels abrupt, messy or confusing needs attention during the editing process. And the changes don't have to be big. Very small edits can make a very big difference in this area. An additional sentence can help the transition between two sections, for example, or re-wording a phrase for better clarity.
Tip 6: Keep alert for small errors
Does this dissertation use there when it should be their or they're? Does it use colons and semi-colons correctly? Is it practice in this context or practise? The English language is a minefield when it comes to spelling and grammar. But when it comes to a dissertation it is worth putting in the time during the editing process to flag up these questions and do your research.
This is not as time-consuming as you might think. Simply read the dissertation slowly and carefully, keeping a lookout for any potential errors. When you come across a spelling, grammar or definition question that you are unsure of then head to Google. Within seconds you will have access to clear answers and examples about how and when and why doing it one way is right and another way is wrong.
The bigger the piece of work, the more these small details matter. But careful editing will prevent them from sneaking through into the final version of the dissertation.
Tip 7: Follow presentation guidelines
What are the university or department rules for dissertations when it comes to presentation, citation style, formatting, binding, font and layout? Does it need a table of contents? What is the rule when it comes to word count? These are things that you need to know when editing because a dissertation that does not comply with university guidelines is never well received.
The first step in following these rules is knowing exactly what they are. Make sure you have access to all the information you will need. Search for it. Ask for it. Make sure you are 100% sure. If possible get hold of someone else's dissertation, perhaps from the previous year, to make sure you haven't missed anything important.
A big part of what you need to know is which citation style is expected. A common error in dissertations is that the citation style is used inaccurately or inconsistently, particularly when it comes to the reference list or bibliography. Take time to make sure every footnote and reference and item in the bibliography is formatted correctly and looks professional. If the dissertation you are editing is not yours draw attention to any inconsistencies for the writer so they can correct them.
Software such as EndNote can really help with referencing. Also check out What Font Size Should You Use In Research Papers? A Guide To Presentation In Academic Work for more help on presentation in academic work.
Tip 8: Try R3ciprocity
Whether you need help editing your own work or want to refine your skills as an editor, r3ciprocity.com is the place for you. It is a unique online platform that connects editors with people needing an editor to look over their work.
Simply create an account, buy some credits and upload your work. Within a few days it will be sent back to you edited by another member of the r3ciprocity.com platform. Go to How To Get Feedback On Your Writing On R3ciprocity.com for more details on uploading your work to be edited.
Alternatively you can get free editing by going through the process to become an editor on the platform and earn credits for editing the work of others. These credits can be exchanged for free editing of your own work or transferred into real money. For more information go to How Do You Perform A Test Review on R3ciprocity? for a step-by-step guide to becoming a r3ciprocity.com editor.
More from the R3ciprocity blog: