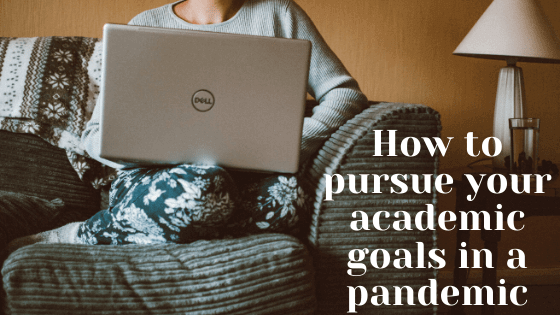 The start of 2020 brought us not just a new year but a new decade. It was the perfect time to set goals and dream big when it came to academic achievements. "This will be the year," we said. The year of high school diplomas and college graduations. The year of PhD progress and exam success. And everything was on track until 2020 became the year of COVID-19. The year of closed schools and colleges, social distancing, financial difficulty and tremendous uncertainty about just about everything. What can you do to move towards your academic dreams when nothing is normal anymore? How can you pursue your goals in a pandemic?
You can pursue your academic goals in a pandemic by first acknowledging the loss and disruption that the situation has brought into your life. Then you can accept the ways in which your goals will be delayed and focus on all the ways you can move forward during this time. This could involve working on current goals in different ways or pursuing new opportunities such as online courses.
Take a moment to be still
We are living in extraordinary times. Never before has a single situation affected the whole world so completely and to such a life-altering extreme. The measures put in place by world leaders to control the spread of coronavirus are crisis management on a global scale. These limitations on people's lives and movements are in place for the best reason – saving lives – and they are necessary. But they are also incredibly disruptive to almost every aspect of daily life.
Sudden and dramatic change that comes out of nowhere and turns your world upside-down is not a new phenomenon. We see it far too often: the unexpected loss of a loved one, a diagnosis, a job loss, a betrayal, a tragedy, a violation or a crime. We know the feelings of disorientation, grief and sorrow that come along with these sudden changes. We understand the disappointment, the anger and the hopelessness they can leave behind. As a result we are kind and compassionate to those experiencing such changes because it is not "business as usual" for them. This huge thing has happened. Their life has changed.
Coronavirus has changed your life. It has come out of nowhere and disrupted your plans, your goals and your hopes for this year. You are now living a new normal of scary news stories and so much loss and death and struggle. It is very likely that your daily life has changed dramatically. It is also likely that you know someone who is sick or who has died because of this disease.
If you are reading this post it you are probably on the hunt for tips on taking back some control when it comes to pursuing your academic goals. And we'll get to that. But don't deny yourself a moment to be still and acknowledge what you have lost. Don't deny yourself the time you need to feel all your emotions surrounding this situation and grieve the loss of normality. This is all brand new to everyone and we need to be kind to ourselves. And if you need to press pause on some of your goals right now that is okay. It is also okay to abandon your plans for the day and watch coronavirus parody songs on YouTube, if that is what you need to do. (There are some great ones.)
Remember that a delay is not a dead end
When March began coronavirus was something that was happening predominantly in China. But within a few weeks everything had changed. Governments had to make swift decisions regarding how they would respond and educational establishments had to make equally swift decisions about what these decisions would mean for their students. This has resulted in a lot of confusion and a lot of things are still uncertain. Will missed exams be rescheduled? Will qualifications still be awarded? What does this crisis mean for you and your academic goals?
The best source of information for you and your situation will be your school or college. They are on your side. No one wants your hard work to go to waste and educational establishments are currently working extremely hard to support their students. But delays in course end dates and changes of plan for exams and teaching are currently inevitable. And we have no choice but to live with them.
In this chaos of uncertainty there is good news. You might be facing a delay or a detour in achieving your goals but this is not the end of the road. Anyone who has sat in traffic or waited for hours at the airport knows how frustrating delays and detours can be. You are waiting for so long that it feels like you will never reach your destination. But you will. Because you are not facing a dead end. Normality will resume, schools and colleges will re-open and you will get back on track. Work will be done, qualifications will be awarded and – if you keep going – you will reach your goals.
Do what you can do
In a pandemic there are a lot of things that you cannot do. You cannot attend classes and lectures and office hours because they are no longer happening. You cannot use libraries and labs and other buildings on campus because they are closed. You cannot access books and resources and equipment that are locked inside these closed buildings. You cannot even leave your house and go and work in a coffee shop to get a change of scene. Therefore you cannot get anything done, right?
Wrong. There are many things that you can still do to work towards your degree, PhD or other qualification or goal while never leaving the house. Anything that only requires your brain and a computer with an internet connection you can do from home. You can search and use the wealth of information and resources available online. University and college libraries have many online resources and sites such as JSTOR provide a digital library of academic journals, books and primary sources.
Anything requiring other people that can be done via a phone call, video call or messaging can also be done from home. You can chat with friends on your course, ask for support and even work collaboratively on a group project. Many professors are also making use of video conferencing software to teach classes and support students during this time. They understand the struggles you are facing and are making as much material as they can available to students at home. Keep checking your university email and portal for up-to-date news and information about what resources are available for you to use.
It is said that necessity is the mother of invention. Let the limitations of lockdown inspire you to find creative solutions to solve your own problems. You cannot work in the library but maybe you could move some furniture around to create a designated work space at home. Is there someone you know with the item you need that could drop it on your doorstep or leave it on theirs for you to collect? Focus on what you can do and you'll get much more done during this time than you ever thought possible.
Use this time wisely
There are a lot of downsides to the coronavirus pandemic when it comes to fulfilling academic goals and dreams but there are also positives. Being required to stay at home brings you the gift of more time. If you've ever wanted to read the pile of books on your shelf, declutter your closet or learn a language then now is the time to do it. There is an abundance of information, resources and courses available online and many sites that are offering free trials and big discounts during this time. It is the perfect opportunity to start pursuing a new goal or start getting serious about a dream you've had for years. Some of your goals may be on hold because of this pandemic but that doesn't mean you can't continue to pursue other goals.
The gift of undirected time is also the perfect opportunity for re-evaluating. We rarely get the chance in the business and routines of everyday life to really examine our lives and our goals to judge what is working for us and what is not. But now is the time to do just that. Where do you want to be in five years personally and professionally? Is your daily life helping or hindering you in moving towards the future you want? Is it time to say goodbye to an old goal and embrace a new one?
One day life will get back to something resembling normal and you won't have all this extra time in your day. Make the most of these strange circumstances while you have them so you can look back when it is all over and know you used this extra time wisely.
Try R3ciprocity
If you are using this pandemic to focus on your writing then something you shouldn't be without is a great editor. R3ciprocity.com is a truly unique online platform for editors and people who want their work editing.
Simply create an account, buy some credits and upload your work. Within a few days it will be sent back to you edited by another member of the r3ciprocity.com platform. Go to How To Get Feedback On Your Writing On R3ciprocity.com for more details on uploading your work to be edited.
Alternatively you can get free editing by going through the process to become an editor on the platform and earn credits for editing the work of others. These credits can be exchanged for free editing of your own work or transferred into real money. For more information go to How Do You Perform A Test Review on R3ciprocity? for a step-by-step guide to becoming a r3ciprocity.com editor.
More from the R3ciprocity blog: