R3ciprocity is several things:
1) it is a platform for submitting papers and other written work for editing and proofreading;
2) it is a YouTube vlog site with hundreds of posts from R3ciprocity founder Dr. Dave Maslach; and
3) it is a blog site.
The R3ciprocity YouTube and blog sites focus on building a community of academics, researchers, and students seeking help and support in the competitive and sometimes difficult to navigate world of teaching and research. Dave has built an incredible community of followers on these two sites who often reach out to him with thanks or question. They also comment on vlogs and blogs and share their experiences with others in the R3ciprocity community.
This post was written by Dr. Stephanie A. Bosco-Ruggiero (PhD in Social Work from Fordham University Graduate School of Social Service) on behalf of Dr. Dave Maslach for the R3ciprocity project (check out the YouTube Channel or the writing feedback software). R3ciprocity helps students, faculty, and researchers by providing an authentic look into PhD and academic life and how to be a successful researcher. For over four years the project has been offering advice, community, and encouragement to students and researchers around the world.
Dave has a small team of writers and tech support staff that write blogs and design and manage his website and editing platform. I am one of the writers and as a recent PhD graduate. It has been cathartic to write some of these blogs, as well as fun; and I want to personally thank Dave for all of the advice and candid sharing he has provided over the years with all of his connections and followers, including me!
Dave's down to earth, nonjudgmental way of giving advice and often sharing his own vulnerabilities, stressors, and fears is what attracts so many of the people who view and read his vlogs and posts. He's not afraid to cry in front of the camera!
The blog-site and YouTube channel are fantastic resources, but what I really want to focus on in this post is the editing platform. It is a great tool whether you have a school assignment, written content for work, or an article that you need proofread and edited. We have written some blogs posts on how to use the R3ciprocity.com editing platform including this one, but I will provide another overview below. The following vlog on how to upload a document for review and use the platform might be helpful too:
What I want to focus on in this post is a bit different. I will show you some actual examples of writing we submitted to the platform for editing to illustrate how the process works, how long it takes, and the types of edits that are made. The documents we submitted were excerpts from recent blogs posts written for the blog-site.
What makes the R3ciprocity platform unique?
Before I show you examples of edited documents, here is an overview of how R3ciprocity.com works and what makes it unique. Unlike other services, you don't simply submit your writing to an editor, pay them, then get your work back. You also have the opportunity to become an editor, hence the name R3ciprocity. Reciprocity is when you do something for someone in return or in gratitude for them doing something for you. It is a circle of service, and the sharing economy is largely based on this principle. In the sharing economy, you may not be directly paid for your work, but instead receive a service or product that you need in return.
When you submit your work for editing on the platform you must purchase credits to have a certain number of words reviewed. As an editor you can either be paid or receive credits for future use of the platform when you need your own work edited. The idea is that you are not simply paying an editor or services for proofreading or editing; rather, you also are joining a community of writers and editors who want to give back. R3ciprocity editors enjoy providing their service but often also submit their own papers for editing when needed. It is a reciprocal process, but you can opt to only use the service or only provide editing services for cash. You don't necessarily have to be both an editor and user of the platform.
Who are the editors on R3ciprocity?
Dave has received a lot of interest from people who want to provide editing services using his platform. He generally doesn't recruit them; rather they simply come across the site and are interested in providing a service and make some extra money. According to Dave, most editors are professional freelance editors, however some of them are graduate students. R#ciprocity vets new editors by verifying their skills. According to the platform's FAQs "You will be required to edit several documents that are less than 1 page in length. Once approved, you can review other people's work."
Each user has the opportunity to provide personalized, open-ended feedback to their editor after their documents are returned to them. Editors are held to a high standard for proofreading, checking grammar, eliminating redundancy, restructuring content, and more. Each editor has an average rating that users can see after editing has been completed.
Who are the users of R3ciprocity.com?
Some of Dave's students were the first to use the R3ciprocity editing software. It has evolved and improved since it was first launched several years ago, but his own students have found it quite helpful and provided feedback on their user experience along the way. The editing platform is ideal for students who have some challenges with grammar, typos, and structuring essays, research papers, or other types of writing. There are many apps out there that provide free or inexpensive grammar checking and proofreading, but they often miss some important errors. They also do not provide the personalized feedback that a real live human proofreader and experienced writer can.
My experience using R3ciprocity
We decided to put the Reciprocity.com editors to the test and submit excerpts of recent blogs published on the R3ciprocity blog site. Although I do a pretty thorough job reading my blog posts, I know there are improvements that could be made in terms of redundancy, grammar, flow, and ease of reading, etc. Here is the first excerpt I submitted to the platform which is from my blog post on comprehensive exams. This excerpt was 585 words and cost less than ten dollars in credits to be reviewed. My document was returned with the following edits the next day.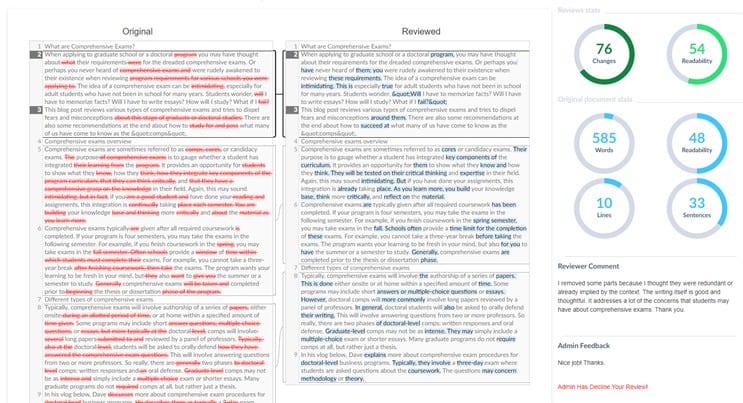 When you receive an email that the reviewer has finished their review, you can log onto the platform to review the edits. You go to My Documents, then click on the one you would like to review.
The original and edited documents are side by side so you can clearly see each edit that has been made. The original will include strike-throughs where information has been changed or removed. It is next to the new edited document which shows each edit in blue. It is easy to compare documents because each paragraph is numbered.
This page also provides additional information about the document that the writer may find useful including the number of changes made and the Flesch Readability Score of the original and edited document. Documents with a score of around 100 are easiest to read. Stats provided for the original unedited document also includes the number of words and sentences. The user may download a copy of the final edited document which is clean and without marking or comments.
Below these stats is a note from the reviewer. My reviewer noted that she had removed some parts of the article that seemed redundant. My original document was 585 words but after the review it was down to 490. I can't stand redundancy when I read so I was especially appreciative for that change. She also noted the strengths of the piece including that it was well written (whew!). The user can read a bit about the reviewer as well including their first name, number of credits earned, number of documents reviewed, and number of stars based on user feedback.
My experience using the R3ciprocity platform was quite positive! The review was quick, the feedback comprehensive, and the edits made careful and extensive. When I clicked on debits and credits from the menu I could view how much I had already spent on credits and whether I had earned any credits for editing. You can also click on a list of your reviews and your documents. There is also an extensive help page and a very informative FAQs page (check it out here).
Stats for other documents uploaded to platform
We then decided to upload several more excerpts from my recent blog posts to see how long each would take to be reviewed, the types of edits made, etc. The following is a table detailing how long each document took to be reviewed, how many edits were made, and readability scores.
| | | | | | |
| --- | --- | --- | --- | --- | --- |
| Excerpt | Original # words | Time to edit | # Edits made | Original readability | Edited readability |
| Dave's blog post | 681 | 2 days | 54 | 84 | 78 |
| Leadership | 287 | 3 hours | 13 | 57 | 55 |
| Getting a PhD in your twenties | 536 | 3 hours | 10 | 58 | 57 |
| How do I become a productive researcher? | 541 | 2 days | 69 | 45 | 54 |
The time it took to edit each document varied but it is possible to get a short document back the same day. The readability scores stayed about the same, though one improved by 9-points. How do I become a productive researcher? was particularly well edited to improve readability. The editor did this by streamlining sentences and removing redundancy. Dave's blog post was also very well edited. It is important that each writer review the work of their editor because some do seem stronger than others. Here are the two excerpts just mentioned.
The bottom line
I was hesitant to use R3ciprocity myself because I like to do final edits on my own documents, but as my workload increases I'm finding that I'm missing more typos and grammatical errors in my work. There is just so many times you can look at your own document. If I need a quick proofread of a document, I can confidently say I now trust Reciprocity to do the job. Dave will be adding more payment tiers, which is good for those who only want to use it for a few documents at first.
You may also want to consider becoming an editor on R3ciprocity. Go through the process of doing a few test edits and see if you pass! If so, editing can earn you a few extra bucks or some credits for when you need your work proofread. In combination with the YouTube channel and blogsite, R3ciprocity is a great resource.
If you want to some tips on how to develop your writing skills while in grad school, check out this blog and the following vlog: